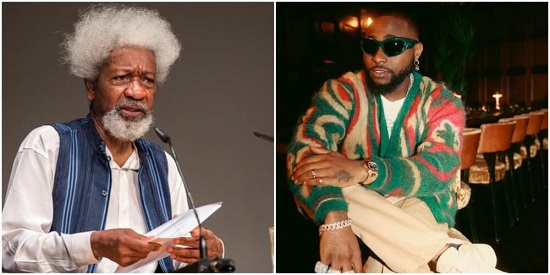 Nobel laureate, Prof. Wole Soyinka, has defended Nigerian singer, Davido, over his signee, Logos Olori's music video, 'Jaye Lo', that appeared to mock the Muslim faith.
Soyinka declared that the DMW boss did not need to apologize to Muslims or anyone over the video.
Recently, Davido was called out for sharing a music video by his new signee, Logos Olori, which received harsh criticism from Muslims who found its content offensive and disrespectful.
The controversial video depicted men dressed in white regalias, praying and dancing in front of a mosque.
Muslim believers were deeply upset by the video, considering it disrespectful to their religion, Islam.
In response to the outrage, Davido eventually took down the video from his Twitter account but did not apologize to the Muslim community.
However, in a statement on Tuesday, 25 July, 2023, Soyinka threw his weight behind the 30BG boss.
According to Soyinka, Davido has no need to apologize for the video. He said,
"The following should not be needed, but we appear to inhabit a nation space where memory deficiency has become an accreditation badge of competence in national affairs. I recall my intervention, several years ago, in an attempt to pillory former Governor of Kaduna State, El Rufai over some comment he had made that was considered derogatory to followers of Christianity.
"I forget the reference now but I do distinctly recall another of a bank manager who, at Easter tide, referred to the risen Christ as a metaphor for the risen dough in the bakeries of Oshodi. Something along those lines. Under obvious pressure, he apologized, and I rebuked him for the gesture.
"There was nothing to apologize about, and that applied equally to El Rufai's comments at the time. It should come as no surprise that I equally absolutely disagree with Shehu Sani if indeed, as reported, he has demanded an apology from Davido on behalf of the Moslem community.
"No apology is required, None should be offered. Let us stop battening down our heads in the mush of contrived contrition – we know where contrition, apology and restitution remain clamorous in the cause of closure and above all – justice. Such apologies have not been forthcoming. In their place, we have the ascendancy of petulant censorship in the dance and music department. Just where will it end?"