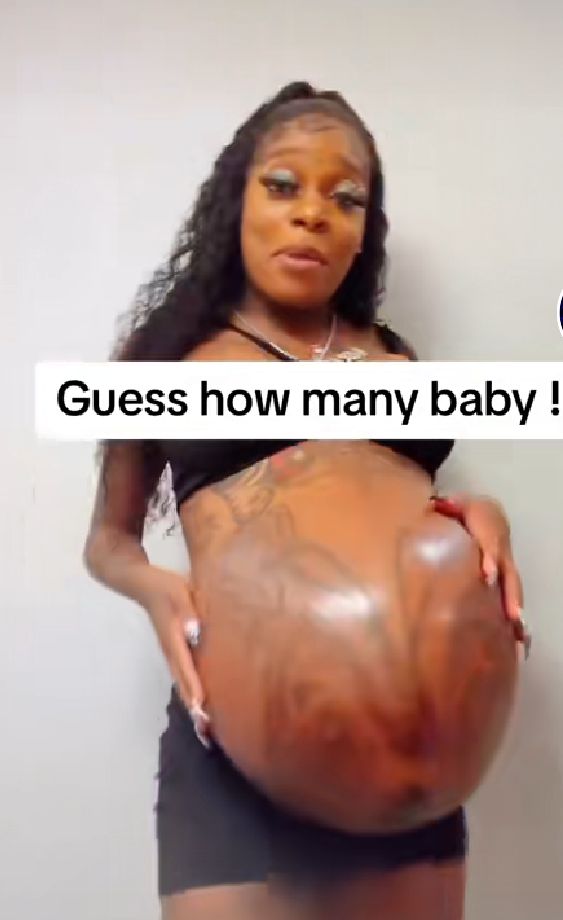 The video, accompanied by a playful caption that invited viewers to speculate on the count of unborn
babies, has ignited curiosity and engagement among netizens worldwide.
Since its posting, the video has generated a flood of comments, with users offering a wide range of
guesses and opinions.
While the majority of guesses have fallen below the number 10, a significant number of netizens have
raised eyebrows by suggesting that the expectant woman could be carrying more than 10 babies.
Netizens Reactions…
@Cora Highsmith said; "Quadruplets."
@octofer reacted; "1 cuz she said baby not babies."
@Robbie reacted; "2 adults in there."
@Ice Charlotte said: "Sometimes 1 baby has big tummy but I'm hoping it's 2 babies congratulations."
@vidash487 said: "50 adults and 20 babies."
@Addisong commented; "3 (triplets)"
@Baby blue said; "10 for sure."
@Cin Yorel said; "The body is a Wonderland. you look beautiful! 2 babies."
See below;
https://v19-web-newkey.tiktokcdn.com/2de3126f26808c21678692cc37ad2123/651d9d00/video/tos/useast2a/tos-useast2a-ve-0068-euttp/oMVWRpx2lIPBE6DEmBFf4oqhEAzQs4AHfQtxsv/?a=1988&ch=0&cr=3&dr=0&lr=tiktok_m&cd=0%7C0%7C1%7C3&cv=1&br=2154&bt=1077&bti=NDU3ZjAwOg%3D%3D&cs=0&ds=3&ft=ApKJEB4vq8Zmo19MJQ_vjd0EKAhLrus&mime_type=video_mp4&qs=0&rc=Njw1aWQ6ZTY5OzxlNGdpNUBpam8zZTc6Zmk8bjMzZjczM0AzLTY0X2EzNmExLjAvMzYuYSNsYmxqcjRvaV9gLS1kMWNzcw%3D%3D&l=20231004111217A30C0C894B1B81665ECD&btag=e00088000